A few weeks ago, I read "The Cavendish Home for Boys and Girls" by Claire Legrand. I really enjoyed it, despite some disturbing parts–which were Finley's favorite. For days after we finished, Finley asked me again and again to read the "Lobby" scene, which was one of the most frightening scenes in the book. Since this is the boy who thinks Rescue Bots is on the same level as The Shining, I must admit I was a bit surprised.
To give just a quick overview of The Cavendish Home, children who do not fit the ideal mold disappear from society, sometimes never coming back at all. I bring this all up because one of the children to disappear did so because he had more fun breaking toys than building them up. That was his way to play.
We have a few toys in our home, but most have been either tossed, hidden or given away. That's because Finley destroys them. Kella–who loves toys as much as typical five year olds do–recently got one of those Calico Critters playhouses (a generic one, of course, since those things are frickin' expensive) for her birthday. It's now in a snapped and crumpled heap in the basement. That's not uncommon. Finley got a train table for Christmas that met the same ignominious end, though in a much more dramatic fashion.
Finley is basically Sid from Toy Story. I can't help but worry that Pixar has so indoctrinated us that Finley will similarly be seen as the villain.
Kella often sees him that way, and it breaks my heart. Some of that is typical sibling rivalry, but when she says that Oliver his her good brother and Finley her bad one, it's hard not to hurt inside.
All that meandering is to bring me to last night. For reasons that are best left unsaid, Kella's typical car seat had to be replaced with a booster. Kella couldn't buckle it in herself, and with the promise of ice cream slowly slipping from her grasp (a whole different story I'm not getting into now), she was getting very upset.
"Finley, could you buckle Kella in," I asked, not really expecting him to do so. Yet to my surprise, he jumped out of his seat and got her situated, explaining to her what she needed to do along the way.
After that, Kella was all smiles. "I have the best big brother," she beamed from her buckled perch.
Their interactions since nearly birth have been that of conflict. In the past few months, though, there has been bright spots, like him buckling her in, or them playing air hockey together with all smiles.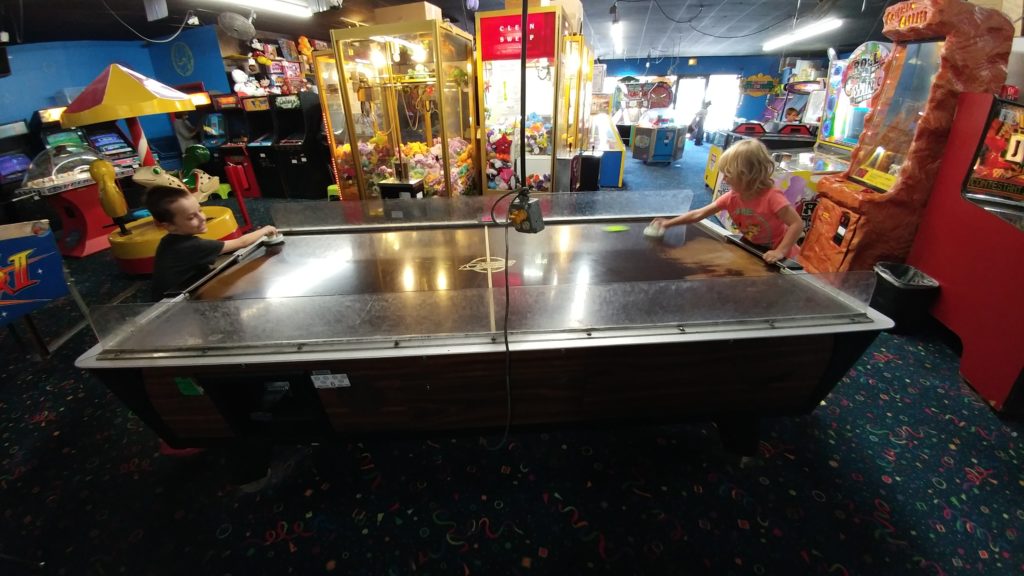 Finley's play style has always made it hard for him to interact with other children his age. I worry that he won't have a lot of friends as he grows up, though we're certainly doing our best to get him the help he needs. I do hope, though, that he'll always have at least one friend in his little sister, who will always see herself as having the best big brother.
Side note: I don't know who left the mooshroom at our door on Labor Day, but Kella loves it (and so far neither have destroyed it). Thank you very much!