(Note: this was originally on my tax blog CreativelyAccounting.com, but I moved it over here, since it is not tax related)
I didn't post last week, but I have a good excuse.
A few months ago I read an article by a popular columnist complaining that vacations ruined his ability to write for a while. I'm having that problem now. In my typical writing session, phrases flow from my mind to my fingers in some sort of semi-logical order, but today everything is coming out a garbled mess. So I'm going to warm up by writing about Disney Princesses.
When we first told our little girl Kella that you could actually meet Disney Princesses at Disneyland, she only wanted to meet Anna and Elsa from Frozen. She got 50% of her wish, making Princess Anna laugh with her story of losing her tooth at Costco (though it was actually Target). But we decided to pull her around to a few more characters, all of whom she loved visiting.
We ended off the tour with Rapunzel and Flynn. Watching Kella's reaction while meeting Rapunzel was truly magical. Whoever was playing that role gets my award for best employee at Disneyland. She was great with Kella, spending extra time with her, commenting on how cute she was, asking us if she could trade her for Flynn. All the other characters were great, but the interaction with Rapunzel really went above and beyond anything I was expecting.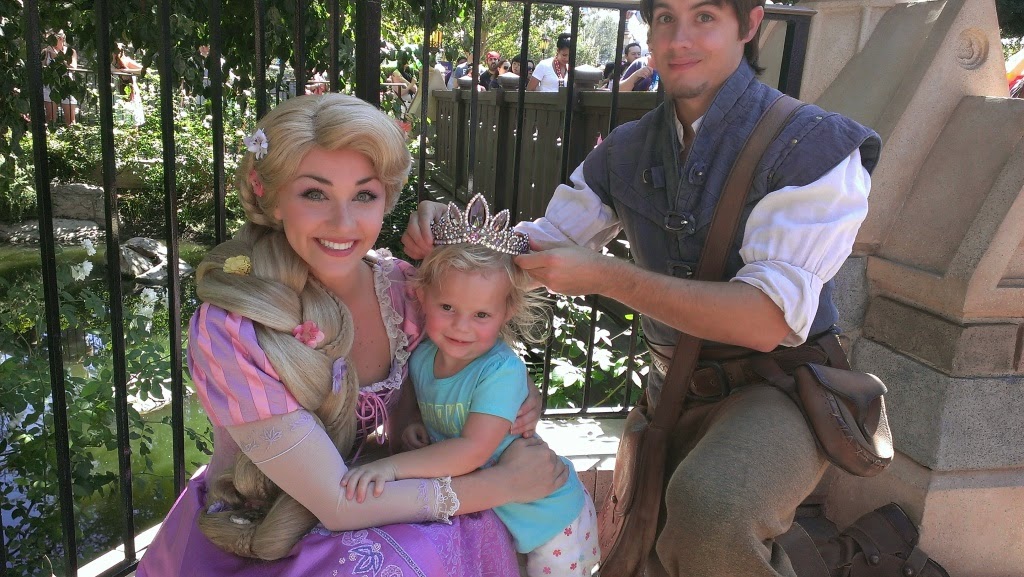 And Kella's shy little smile. With more crazy hair (it was super hot and humid).
Even though these two actors will likely never stumble upon this blog, I'd still like to thank them here for how much interest they showed in my little girl. It really made an impression on her, too. We bought Kella a Rapunzel jewelry box on our last day there, and Kella kept kissing the little figurine on the drive home, asking again and again if she could watch Tangled.
Despite all that, I've had an a tiny tinge of bother since that encounter, and it's taken me a couple days to figure out why. It's the Tangled story itself. I can't make it through the end without tears welling up in my eyes.
To review, Rapunzel is stolen away when she's just a baby, only to be reunited with her parents 18 years later. The movie came out in 2010, shortly after our own baby passed away. Whenever I see Rapunzel's parents pulling their lost daughter into their arms, I can't help but think of the lost years we've had, and, more importantly, how wonderful it will be to take him into my arms again.
There's something poetic about the characters from what I consider Disney's most heartbreaking movie bringing the most joy to my little girl's face. I don't know how long it'll last, but for now we have a new favorite Disney Princess in the Gordon household.
Though she still wants to be a Pirate Fairy for Halloween
For those who are wondering about my son's reaction to Disneyland, he didn't have much interest in meeting the characters (he literally hid from Anna the whole time we were in the Frozen greeting room). He found his joy elsewhere: